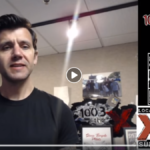 #TuneIn Sunday nights to catch Randy doing stuff exactly like this:
May 31, 2020: New local debuts from Half Past Gone and Artificial Aliens!
New tunes from Trivium, The Outfit, Tense Machine, Blacktop Mojo, OTHERWISE, Roses Are Dead, Bad Omens, Cold Kingdom, I Prevail, Stitched Up Heart, The Raven Age, Palaye Royale and more!
Stone Prophet is playing a free online concert. Details on that and how to get your songs on the radio. Plus, learn about the first time I bought a drumset and how you can do better. I'll also play a demo that nobody else in the world has a copy of.
With music from Pause For The Cause, Damn the Planet, Texas Hippie Coalition, The Pine Project, Slade Brooks, Ripchain, One Second Till Forever, Lead Jacket Lullabuy, A Dead Desire and more.