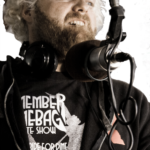 I remember at the very beginning in January completely dismissing all the talk about COVID 19. I was flippant, even mocked the suggestion of a pandemic. I was uneducated and clearly WRONG! I don't think many of us ever imagined things would come to what we are now witnessing.
I don't know about all of you, but I've been feeling pretty crazy. Mood swings, anger, fear, depression, and yeah lots of anxiety.  Pretty sure all of us know someone right now that is out of work because of this, who is struggling to figure out where the rent and mortgage money is going to come from. I'm thankful that for the moment I am still working, but that is not the case for a lot of our fellow X Rock fans.
The 'mental health' aspect of what we are going through is something I don't think we can afford to push to the side. Being quarantined and not being able to access many of the coping mechanisms we have for the various mental hurdles is going to take its toll.  I understand that there is help available, and we wanted to make sure you did as well.  So we brought on Dane Mullen from Pride Mental Health.

Dane and his crew have had to be innovative like most business. They also have added staff to help as many as they can. Check out the interview below. One of the most interesting things to me that he mentions is the stigma of mental health and how that barrier is breaking down finally as people see that we are all susceptible in some form or another.
They really can help, and if you aren't sure how you might be able to pay or afford treatment just get in touch with them.  They will work it. Thank you to Dane and his staff. Thank you to all the people working in the medical field right now for all that you are doing to keep us safe and healthy.
Finally hang in there.  WE will get through this, but only TOGETHER.