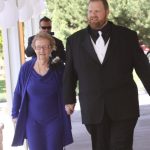 This pretty lady pictured with me all dressed up on my Wedding day is my Mother, Connie.  Easily the best day of my life, a day that I'm certain she never imagined would come true. She doesn't remember it, in fact during my Wedding she wasn't sure where she was, or what she was celebrating.  Just thinking about that crushes me! Impossible to do without tears coming to my eyes.  I could win an Oscar with that thought because I could cry on command.  I don't want you to feel sorry for me. She doesn't need your pity either.  I need you to take action. WE need you to take action.
Sorry to be so blunt in the opening of this blog, but I don't have time to waste. This isn't a love letter.  I already wasted too much time being in denial.  No one wants to feel like America waiting around during the 30's while Hitler systematically tried to erase a whole culture.  Guess what? That is exactly what I've been doing.  5 Million American's have Alzheimer's as I type. 16 Million will have it by the year 2050. There is not a cure! I know what will end my Mother's life, and that is gut wrenching.  There is no treatment! My Family stands by helplessly as witnesses. 5 Million families understand our pain.  Unfortunately, nothing I do now will help my Mother, but our story might help rattle your cage just enough to have you help save the future generations.  Research is the key to finding and creating treatments and eventually a cure.
The folks at Alzheimer's Association have been working diligently to do everything they can to raise money and awareness.   Now I will take up the fight and it starts with the Walk to End Alzheimer's.  I want you to join my team to help eviscerate this deadly and cruel disease. October 7th thousands will gather to walk, to remember, and to celebrate at Kleiner Park in Meridian.  Click on this link to join my team.  Perhaps you can't attend, you can certainly donate. I don't care if it is just $1 it all will help.
I've attended the last 2 Walks, and I expect to see a lot of new faces there with me.  My family is lucky in some respects, my Mom is generally in pretty good spirits.    She loves to dance. I think they call it the jitterbug, and it makes us all laugh and smile.
When you get down to it, that is something my Mom always could do.  The irreverent humor you have heard here on 100.3 The X for the last 17 years I get from my Mother.  Connie has one of the best senses of humor. I'll be brining that to the Walk in spades.  No one said we couldn't have a good time while we kick this diseases ass! I won't have it any other way, and I don't think Connie would either.
See you October 7th!