100.3 The X knows one way to make sure your summer is cool is to snag a brand new Yeti Cooler. There's a sure fire way to do that – and it involves your camera, an ice cold can of Coors Light and Instagram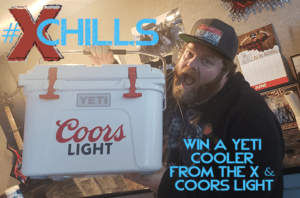 All you have to do is take a picture of yourself, or your crew chilling out this summer.
We wouldn't be mad if you included a can of Coors Light in that picture either, I'll tell you what.
Post that picture on Instagram using the hashtag #XChills
Every week, all summer long we will select a winner to take home a brand new, and very large Yeti Cooler from Coors Light and The X.
Eight weeks, Eight Yeti Coolers, Eight Different Winners
One of them should be you!
So snap that pic, post it on Instagram and use the hashtag #XChills to enter to win!
From Coors Light – Mountain Cold Refreshment
And…100.3 The X…Rocks!