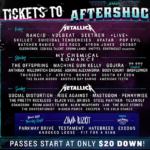 Lots of ways you can check out the biggest rock festival on the West Coast – all of them thanks to 100.3 The X!
Keep Listening and checking out our social media pages for your chance to check out all 4 days of this fest in Sacramento from us!
Don't want to jump through hoops and just buy your way in? Click this link to purchase tickets now.
AFTERSHOCK FESTIVAL 2021 from 100.3 The X… Rocks!