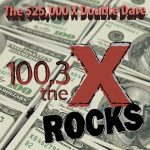 Smart. Smarter. Smartest! That's the formula, when 100.3 The X Rocks breaks out the 'The $25,000 X Double Dare!' It's a "you pick the category" three-question quiz. Get one right, earn fifty bucks. Keep it and walk, or risk it for DOUBLE the money.
Walk with a hundred, or go ALL THE WAY for a chance at TWO hundred dollars. But miss ANY question along the way and you'll have nothing to show for it, but the embarrassment.
Play the The All-Cash $25,000 K-HITS Double Dare Weekdays at 8:30 AM, 1:30 PM and 4:30 PM starting Monday 9/23. Only on 100.3 The X…Rocks.