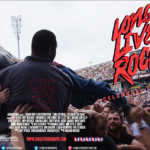 100.3 The X misses live rock concerts and festivals just as much as you do!
That's why we have teamed up to bring you a one of a kind film experience you can enjoy in the comfort of your own home that will bring you closer to the action than ever.
It's called Long Live Rock…Celebrate The Chaos. Check out the trailer:
What's it like to attend a huge a rock festival?
What's it like to put on a huge rock festival?
What's it like to play a huge rock festival?
One of a kind interviews, clips and performances — all for you.
Pre-order the film here to watch the exclusive online premiere on March 11th featuring a Q&A from filmmakers and Jonnathan Davis from Korn!
Click. Pre-order and on March 11th watch along with your friends at The X as we present Long Live Rock!
Live music will be back soon. In the meantime let's celebrate the chaos! From The X!