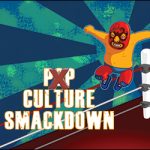 Every weekday morning at 8:30 Nic and Big J test the Treasure Valley's Pop Culture Knowledge with Pop Culture Smackdown.
Listeners battle Big J in a pop culture pop quiz – from movies, to TV, to comic books to history – it's all there.
Last caller standing when Big J inevitably gets a question wrong wins a fantastic X themed prize, and a whole scoop of pride.