I knew I wanted a tattoo from a fairly young age. I was always into art and most of my favorite musicians and athletes had them. That seems like a good enough reason, right? At least when you're a kid it is. Although your ideals change as you grow older. The moment I turned 18, I walked into a local tattoo shop (it no longer exists) on Vista Road in Boise with my girlfriend at the time. We were greeted by a big, burly guy wearing a sleeveless shirt that said "Hell yes, it hurts!" Turns out that was a relatively accurate statement, but it wasn't going to stop me from getting a fresh piece of ink on my completely blank canvas. Then I did what any naïve high school kid would do and just picked something from the flash art on the wall. But why select just one when you can get two?! That's when I chose a kanji symbol for "strong" (or so I hope that's what it means) and a basic star tattoo. They were small and placed in typical "first tattoo" areas, so it didn't take too long. Before I knew it, I was showing them off to everyone at school. One kid even walked up to me during P.E. class and couldn't believe it was a real tattoo (yes, I took P.E. as a senior, but it worked out because I could dominate all of my younger classmates at every sport). From that moment on, I knew I had to get more tattoos.
The year after I graduated high school, I got "Hold My Own" scribed down the back of my arm. The reason was twofold- because it was a stamp of independence at the time and of course, one of my favorite basketball players, Allen Iverson, had a similar tattoo. This piece was done by Josh Petty who later moved to Las Vegas and worked at Hart and Huntington inside the Palms Casino while being filmed for a TV show called 'Inked.'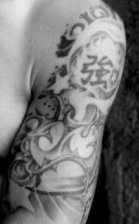 While I was in college, I was the concert coordinator for the campus at Boise State. So, of course, my next tattoo would be a big clef note (that's a music symbol) down the back of my other arm. Not too long after that, I decided to up the ante and get a bigger piece- a black and gray abstract half sleeve consisting of a sacred heart with flames, clouds, and stars circling around the "strong" symbol mentioned earlier. The whole thing was surrounded by thorns and crashing waves that splashed off the "Hold My Own" piece. The artist was so good that he just free-handed everything with a Sharpie marker as we collaborated on the idea. His name was Tony Adamson. He was tattooing in Boise at the time, but later moved to Vegas with Josh Petty. However, Tony chose a different path and ended up opening his own shop called A Mind's Eye Tattoo here in Boise. Over the years, I became great friends with Tony and his wife, Wendy. But I would have never imagined what would come later (we'll get to that here soon).
It was around this time when I branched out and moved to Southern California for a bit. Thanks to Josh and Tony's recommendations, I found a good spot to get inked during my time in sunny California. That's when I got the word "Believe" scribed inside my right arm and a colorful swallow on my chest during two separate occasions. The first one was because you should always believe in something that inspires you. The latter choice was interesting because usually people get swallow tattoos in p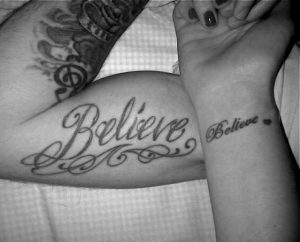 airs. But I chose just one to represent my journey of flying solo. The plan was that if I was to ever get married, I would get the second bird and scribe the names of any future spawn below them (yes, there's still just the one swallow to this day). With this particular tattoo, I made the mistake of not taking proper care of it, so it started to scab and lost some of its color in the process (so yeah, don't do that). I guess in a way it was all representative of my life during that period of time.
While living in California, I did come back to visit my friends and family in Idaho as often as possible. During one of those trips, I decided to do something I swore I'd never do- get a tattoo below my elbow. So, I left Idaho that year with a beautiful piece on my right forearm. It was a rose with "Family" written across a scroll, surrounded by waves and more music notes (who knew the sharp symbols could eventually be misconstrued as hashtags?).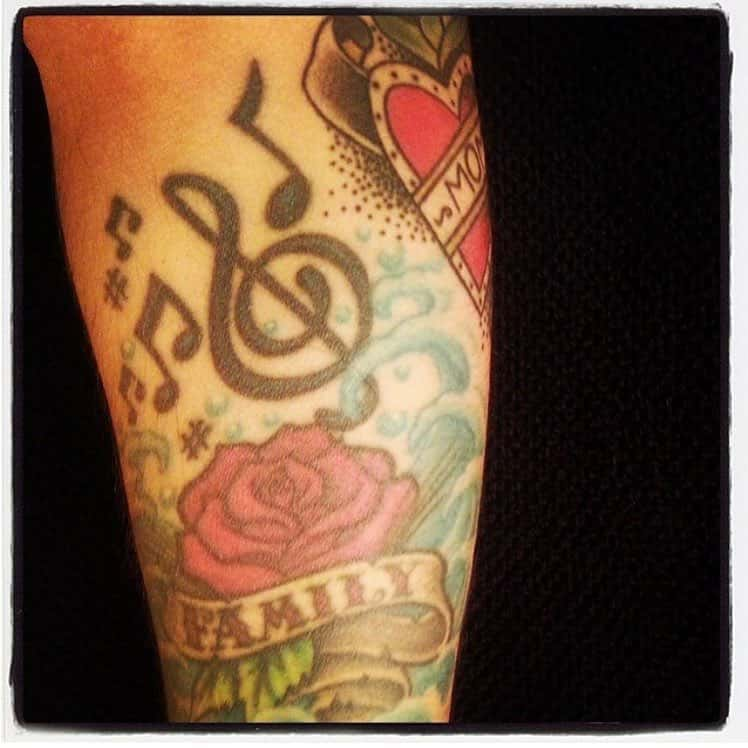 A year later, I returned home to Boise again and had an appointment scheduled with Tony at A Mind's Eye. However, I received a call early in the morning informing me that his daughter, Lily Joy, had just been born so we had to cancel. Ironically, this worked out quite well as Lily would be the one to tattoo me years later (we'll get there).
My next tattoo turned into the biggest piece yet, not only in size but because I was selected to get it done on a TV show. I had initially applied to be on 'Miami Ink,' but the producers told me to hold off because they were creating a new show closer to where I lived called 'L.A. Ink,' featuring none other than Kat Von D. When the time came, I had to send in a home video and then meet the producers so they could interview me while being filmed. They asked if I had a preference on artists and since I knew everyone on the show would want to get a tattoo from Kat, I told them any one of the three women at the shop would be fantastic They called me back shortly thereafter to schedule the appointment and we were all set. There's a lot more to this experience, but I'll have to explain in person. Give me a call at the studio or catch me at the next concert and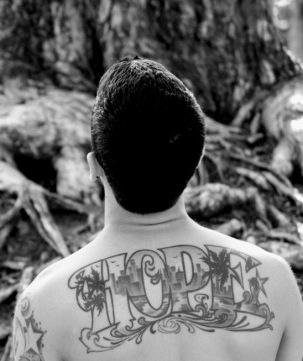 I'll tell you the whole story.
The design that my artist, Hannah, and I landed on for the show was a back piece with the word "HOPE" in big, bold letters. Inside of the letters was a city skyline. The reason is that while I've always been an Idaho guy at heart, I do love the city- from Boise to Los Angeles. It was also a representation of moving 1,000 miles away from home while trying to make ends meet in a place where it's not always easy to do so. All while having hope that everything in life will work out for the best.
I finally moved back home to Boise in 2011 (right before starting my radio career at The X). Awhile later, I learned that a childhood friend of mine (also named Tony) was apprenticing with Tony Adamson at A Mind's Eye. It was only fitting that I was to get my next tattoo from him. It was a simple, yet extremely important one- my Grandma's name written in cursive just above my wrist. This was the latest addition to my "family" piece, but I still had one spot left to fill. So, I returned a few months later to get a traditional style "Mom" heart from my friend Nikki. But I wasn't done just.
It was time to get a tattoo from Tony and Wendy's daughter (yes, the same one who was born 5 years prior on the day Tony was originally supposed to tattoo me). As Nikki finished up, Lily put on her little gloves and got everything prepared. I was far more nervous than she was as the tattoo machine fired up. With the help of her Dad, she made two tiny dots and a swoop. And then went back to make sure it was bold enough, of course. She looked up at me when it was done to make sure that I was happy with her masterpiece- a tiny smiley face right above my Grandma's name. While it is the smallest tattoo I have, it will always be one of my favorites. I can't look at it without at least grinning a little bit.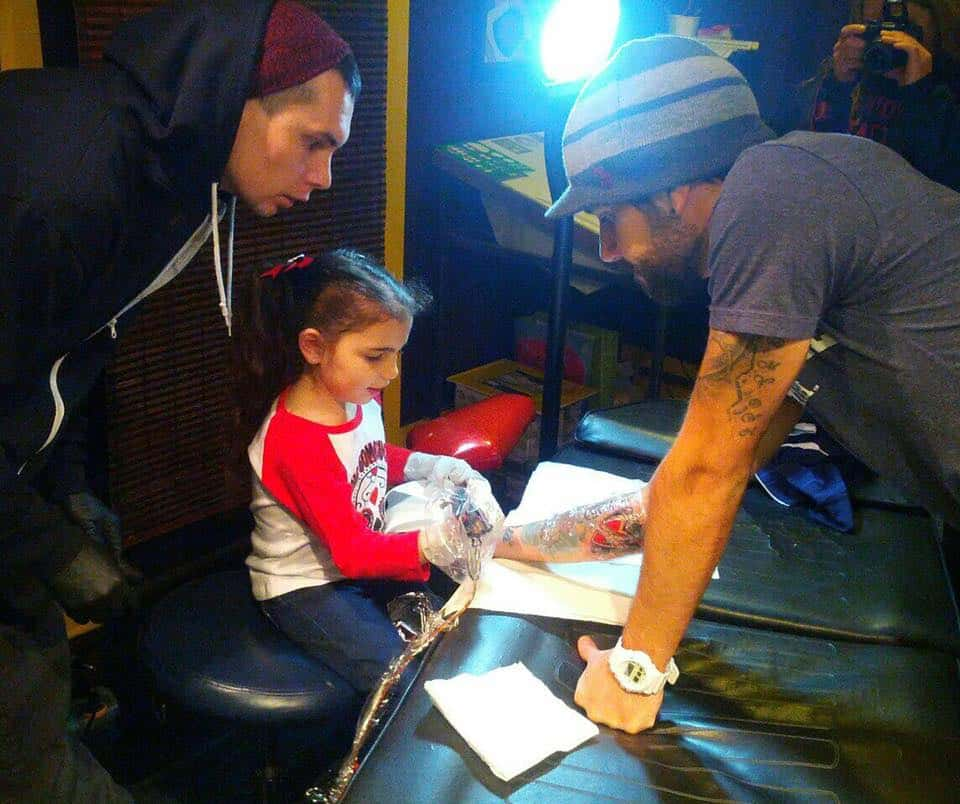 LJ's smiley face was the last tattoo I got, but I want to note that one of the coolest tattoo experiences I've ever been a part of didn't even involve me getting any ink. When Rancid and Dropkick Murphy's were in town last summer, Tony, Wendy, and Tyler from A Mind's Eye set up shop backstage in the dressing room where they extended their portfolio onto a few of the band members. Naturally, I spent most of the concert in there with them, talking, laughing and witnessing some incredible artwork take shape. To top it all off after the show, Lars from Rancid tattooed his band's name onto Ken from Dropkick Murphy's while one of their faithful roadies got his first-ever tattoo at the ripe age of 50.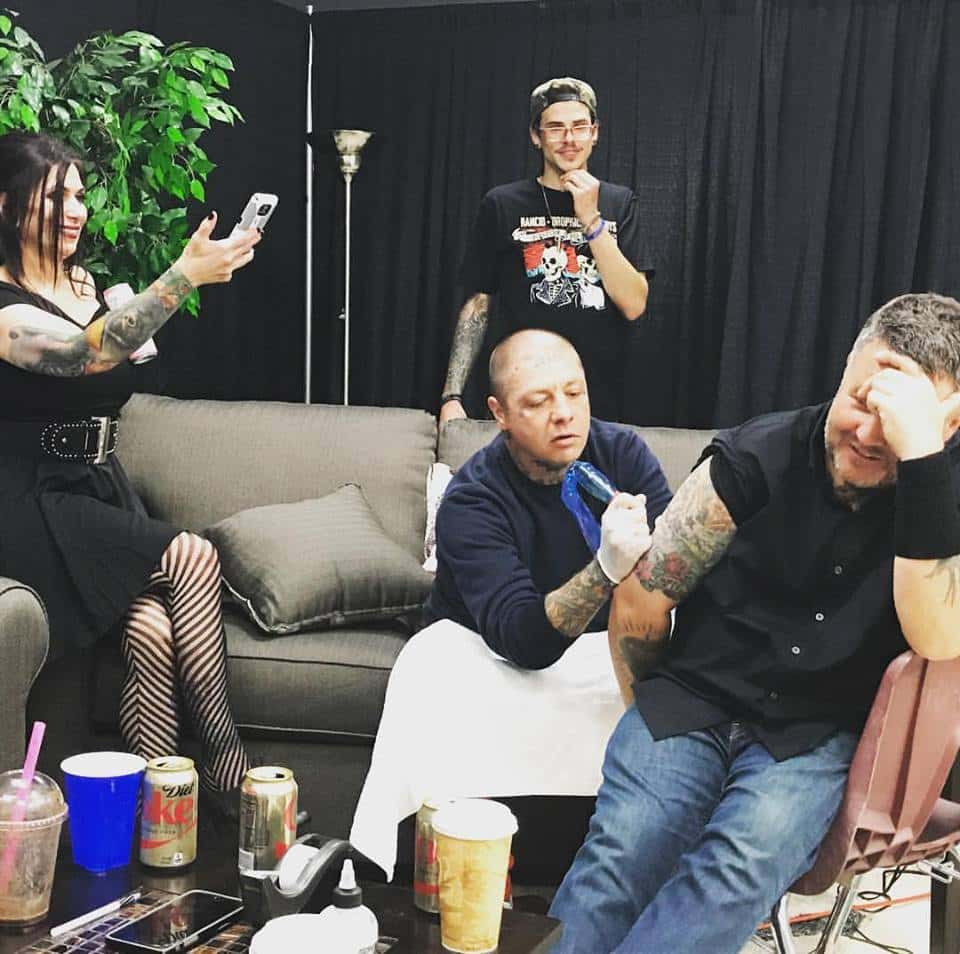 It's now been over 5 years since getting my last tattoo and while that's the longest interval since turning 18, who knows if or when the next time will be. The beauty of tattoos is that you are the canvas, so you get to decide what you want, when you want it and who is going to be a part of the process. For me, the reoccurring theme is music, family, and inspiration. Every tattoo I have means something and each one tells a story.
The rest of that story is still unwritten.
-Randy