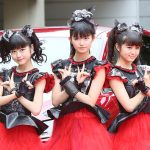 This last Sunday, June 25th, The Ford Idaho Center was graced with what might very well be one of the biggest concert line ups they've seen. While the Treasure Valley lost its collective mind over the headliners – one slightly well-known Oildale band by the name of Korn (backed by the ever-so-slightly well-received Stonesour) – one band on docket seemed to sneak under the radar, facing the uneasiness of "I don't get it," "wait, that's a thing?" and finally a muttering of the name: "BABYMETAL."
Before we dive deep, I should acknowledge that this band is not everyone's favorite cup of tea. Right on, no harm no foul. This article isn't meant to change your mind or even enlighten you. But if you stick with me, when it comes full circle, you might walk away with something to consider regarding music in general and this awesome place we reside in daily.
When it came to BABYMETAL, being the "Resident All Things Japanese Nerdlord" that I am, I was already pretty keen on the idea. Then the "Music/News/Radio/I Read this Somewhere" side kicked in.
The first part of me was super attached to the idea that the same audience that crowd surfed their children up to Five Finger Death Punch was about to be blasted by not only a language they didn't understand (Japanese and a lot of it), a concept they might not grasp (costumes, three teen girls yelling at them in said language), as well as a musical styling that is pretty unique.
The other side then quickly latched onto the reminder that "-Famous Rock Person A-" came to the aid of these girls – not only on social media, but by bringing them on tour, the like. (I think it was Rob Zombie who started the trend?)
50% sure it would work, 50% positive it would fall flat.
However, 100% of me was excited.
I missed the show.
That's another story for another day.
But from what I've gathered from those that did attend, a smile has been slapped on my face, and my "I Told You So" glass is running over at this point.
Truth be told I've been into Japanese music since I was a child. I grew up on anime, so I was familiar with the language from theme songs. I understand a little bit of it, enough to string simple sentences together. I feel like I'm pretty well versed in the Japanese Rock category, and while that seems like a pretty niche market, you'd be shocked at how deep it goes.
So if I heard any form of hesitation when it came to this show and BABYMETAL, I had to (loudly and obnoxiously) interject "Just go seem them, TRUST ME. And if you don't like them, you have Korn and StoneSour." All while flashing a peace sign.
The reactions have been all over the place. I've seen the comments, I've taken the phone calls – and even if you aren't a fan, I can see a swarm of people who enjoyed the hell out of themselves.
A guy I've known for nearly 15 years (who I'm pretty sure I've watched kill some dude in a Slayer pit) who sore to god, "is only showing for BABYMETAL because my child is forcing me, I don't want to," was forced to look me in the face and not only retract his statement, but followed it up with – "I didn't want to be, but I'm a fan."
Best part? He was far from the only one.
It's okay to admit it. 3 under-21-year-old girls melted. Your. Face. Off. And you have no idea why.
And I love that.
There's a whole new world of music out there to be cracked into – this is only the surface! While my list of bands is all over the place – with BABYMETAL possibly being a larger name then most I would rifle off – there's now a large number of individuals who were turned off by the thought that are now slightly aroused at a musical styling they can't understand, literally and culturally. Excuse me while I adjust my "Japanese Rock Band Hipster Hat," but I'm excited that this may open the flood gates for other bands in the same genre.
Do we remember Loudness? No…
How about X Japan? Alright… maybe not.
Badass, over the top, confusing, theatric, ROCK.
They just so happen to be Japanese as well.
So even if BABAYMETAL wasn't your favorite part of Sunday, if you had a moment of fun watching, continue on and dig deeper: MAN ON A MISSION, One Ok Rock, The Pillows – this list goes on a while, so I'll spare you.
The point, after all this rambling, is: do this for me. Consider it a responsibility to the music world.
Test your preferences.
See weird shit.
Never say no to a show.
Give it a shot, and at the end of the day, they're off stage in 30 minutes.
I think you'll survive.