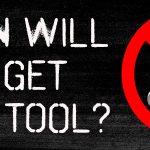 While we've all been hoping for new music from Tool and A Perfect Circle, it's looking like a 2017 album release date is not likely for either band.
Now don't get your panties in a bunch just yet. This news is merely derived from a series of responses to fans on A Perfect Circle's Twitter account after new album rumors were mentioned:
@mcnab_ Not true

— A Perfect Circle (@aperfectcircle) April 23, 2017
@wikipushing @mcnab_ @Tool Also not true

— A Perfect Circle (@aperfectcircle) April 23, 2017
However, it is safe to say that we are long overdue for new Tool. The band has released four full-length studio albums since their formation 27 years ago. Although that's an average of nearly 7 years per album, we've never seen more than 5 years between album releases.
Until now.
Tool released their last album, 10,000 Days, just over 11 years ago. That's over 4,000 days if you're a math wizard.
The band has always had a weird correlation with mathematics. Maybe the plan was to release an album 10,000 days after the release of 10,000 Days? If that's the case, we'd be waiting until the back half of 2033. Or maybe the band is messing with us and plans to release the album on their 10,000th Day Anniversary as a band, which would be roughly sometime this year or early 2018.
Either way, only Tool will tell. And I'm willing to bet it will be worth the wait. In the meantime, catch Tool live at the Ford Idaho Center Arena on June 18.
-Randy