This week's "DVDumbass" has once again provided Big J with a gem of a film. He passed on "The Impossible" and "Pawn" for a flick called "The Ghost of St. Aubin." I'm not going to lie, for a minute I didn't think that a trailer would exist for this one, but behold, it's now posted below. On another note, I was going to pull the audio of Big J's reaction, but since we are in radio and deal with semi-ancient technology, our equipment to make this happen went down this morning.
The Queen of tattoos, Kat Von D, called into The Morning After this morning. You most likely know Kat from watching one of her shows on the television set, but she also writes books. You can find her latest book, "Go Big or Go Home," in stores purchase it from Amazon.com right now. On a side note, Big J once purchased some Kat Von D makeup. We found out why during the interview. You can check out a podcast of that at xrock.com later today.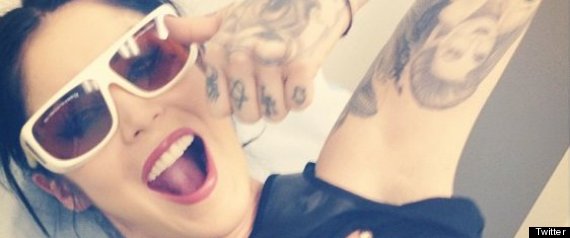 Today's Cage Match was a nice little battle, but Nonpoint continued their streak. Here's your current Champion, Nonpoint, with a song called "That Day."
Here's today's Challenger, Papa Roach, with a track called "Leader of the Broken Hearts." Nonpoint may have won the battle, but you be the judge.
This site uses Facebook comments to make it easier for you to contribute. If you see a comment you would like to flag for spam or abuse, click the "x" in the upper right of it. By posting, you agree to our Terms of Use.