During this week's "Tech Tour," Big J brought two interesting items to our attention. First, a computer program called Random Shopper, which selects and purchases random gift using gift cards. Although it's a unique idea, I'm not entirely sure that I'd want to end up giving someone a Hannah Montana DVD and book about bird watching as a gift. Next, we learned about a new Apple device called iTV ($100), which is an old school television antenna that plugs directly into your iPad and allows you to watch standard channels on your iPad's screen. Now that's something worth looking into.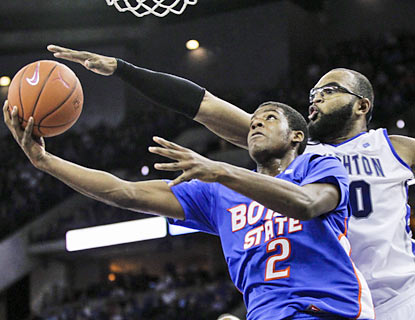 In sports, the Boise State men's hoops squad knocked off the #11 team in the country last night. Derek Marks had a career-high 35 points as the Broncos defeated Creighton 83-70 on the road. This teal is legit folks. They move to 5-1 on the season, with the only loss being to #15 Michigan State by just 4 points. Head Coach, Leon Rice, had this to say about the victory: "It's a great win for our program, but we don't want to be defined by one win in November." Support local basketball and pack Taco Bell Arena for their next home game against an undefeated LSU team on December 14th.
In music, Sevendust has a brand new record on the way. They claim it to be a darker album, yet still full of melody. Stay tuned for more on that. In movie news, now that Disney has bought Lucasfilms, actors from past Star Wars films such as have started to show interest in returning to the series. Stay tuned for more on that.
Scoot McNairy gave us a jingle this morning. Who the bleep is Scoot? Well, he played Joe in the movie "Argo" and has another movie out tomorrow called "Killing Them Softly," starring Brad Pitt. He talks about those films, as well as how working with stars like Ben Affleck and Brad Pitt has influenced his acting career. Check out the trailer for "Killing Them Softly" and then find more of that interview right here.
Random Headlines: a Belgium man is divorcing his wife of 19 years after discovering that she was actually born as a man. In Florida, a lady was arrested for assaulting her boyfriend for reaching his "o-face" before she did.
Lastly, TSA has relaxed the rule on bringing snow globes on board of airplanes this year after a previous ban, but as long as the globe doesn't contain more than 3.5 ounces of liquid.
We had a song fight for the ages on Cage Match today. Rage Against the Machine, coming fresh of their first victory, took on a track from Avatar and yet again, Avatar votes came in all over the place. Look for them to cap off the week tomorrow and find out where they will be seeded in our 2012 Cage Match Madness brackets. Coming soon.
This site uses Facebook comments to make it easier for you to contribute. If you see a comment you would like to flag for spam or abuse, click the "x" in the upper right of it. By posting, you agree to our Terms of Use.