Here's what you missed on Thursday's show:
Some important stuff for your day: US Airways is working with federal officials as three commuter jets barely dodged a mid-air collision. Air traffic controllers were attempting to clear two flights from an oncoming plane and ended up five seconds away from disaster.
China is still sitting at the top of the Olympic medal count with a whopping 30, but the United States is sitting right on their tail at 29 medals. However, China is up on gold medals by 5, so there is still plenty of work to do for the Unites States. Slipknot's new best of album has been selling quite well in the first week of release. The band has also been putting together demos for a fifth studio album, so stay tuned for that. Sharon Osbourne has been talking about leaving the show America's Got Talent, but she actually released a statement saying the show has not asked her to come back yet. You know she's a no BS type of gal and someone I would not want to mess with like that.
Over in Tennessee, a 40 year old named Lowell Turpin from Knoxville just so noticed his girlfriend posting a photo of another dude on her timeline. Well, this other man he was so concerned about was actually Presidential candidate Mitt Romney. Lowell became so outraged that he grabbed her laptop, smashed it up, and then continued to assault her. Even when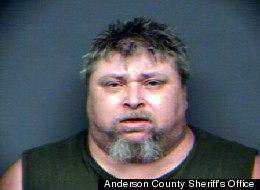 officers showed up on the scene and confirmed that in fact it was Mitt Romney, he still continued to not believe it. Bravo Lowell, bravo. You now face a possible prison cornholing over a photo of Mitt Romney. See the full story here.
During this week's Tech Tour, Big J reviewed an app called Waze. Waze is a traffic app that not only acts as a great turn-by-turn GPS navigator, but also allows users to report police activity. For example, if you see a speed trap or some sort of police commotion, you can report it on the app for others to see so they know what they might be in for on their daily drive. The more users that are using the app, the more efficiently it works. So, Big J himself urges you to give this app a download as you might just find it beneficial. Download Waze on Android or iPhone for free by clicking right here and watch the video below to see how it works.
Some more important stuff: Air Canada revealed that yet another passenger found a sewing needle in their sandwich during a recent flight. This seems to be an ongoing occurrence recently, so people please check your sandwiches before taking a giant bite.
Eight badminton players were thrown out of the Olympics for attempting to throw a game. Apparently they were purposely overshooting and hitting the shuttlecock into the net. Maybe we should just keep badminton as a fun backyard activity instead of an Olympic sport? On top of their upcoming trilogy release, Green Day also has a new eight-CD box set on the way. The collection will be called The Studio Albums 1990-2009, which releases on September 4th of this year and of course includes all of the band's studio albums. Jason Segal is getting ready to walk away from the hit sitcom, How I Met Your Mother, as he wants to start playing some edgier characters instead of always being known as the nice guy.
Thomas Jane joined us on the show today. He's been in some great films such as The Punisher, Deep Blue Sea, Face Off, Boogie Nights and The Mist. We had an opportunity to discuss his entertainment company, Raw Studios, as well as chat up Dirty Laundry, which is his new short featuring The Punisher. Check out Raw Studios here, see Dirty Laundry below and find out what Thomas had to say on The Morning After this morning right here.
A few random headlines from around the country: Walmart employees in Kansas found a couple acting rather rudely after stealing a tube of KY Jelly and then going to town on each other right there in the middle of the store. They were
then of course booked and charged with lewd behavior. In Virginia, a 22 year old woman named Laura managed to lift up a car off of her Father after it fell on him while he was underneath working on the vehicle. She lifted the BMW 525i weighing in at a ton and a half, performed CPR and quite frankly saved the day. A lady in NewYork walks around the city topless because she was banned from a Yoga class after going topless. She finds it necessary to promote her right to go bare skinned due to the fact that men can walk around topless without any fuss. So you're telling me that strippers in Idaho have to wear boobie tassels, but woman on the other side of the country just walk around completely topless? Goodness gracious.
Slash came back on Cage Match against a new Flyleaf track. It was a close battle, with Slash coming out on top by one vote.
Spend the end of your week with us as we talk to Jamie Varner about his upcoming fight taking place on Fox this weekend. Also divulge into another one of Big J's Life Lessons and win some free stuff!
This site uses Facebook comments to make it easier for you to contribute. If you see a comment you would like to flag for spam or abuse, click the "x" in the upper right of it. By posting, you agree to our Terms of Use.